Apply to
Join Community HeLP
UGA Law students must submit a written application, using the Unified Application Form prior to enrolling in the Community HeLP Clinic for either their 2L or 3L years. After the applications are screened, students may be interviewed. Before registration, students will be either invited to enroll in the Community HeLP Clinic or notified that they have been placed on a waiting list. The Community HeLP Clinic typically enrolls eight students for the academic year. Funding is usually available for summer law interns in the clinic.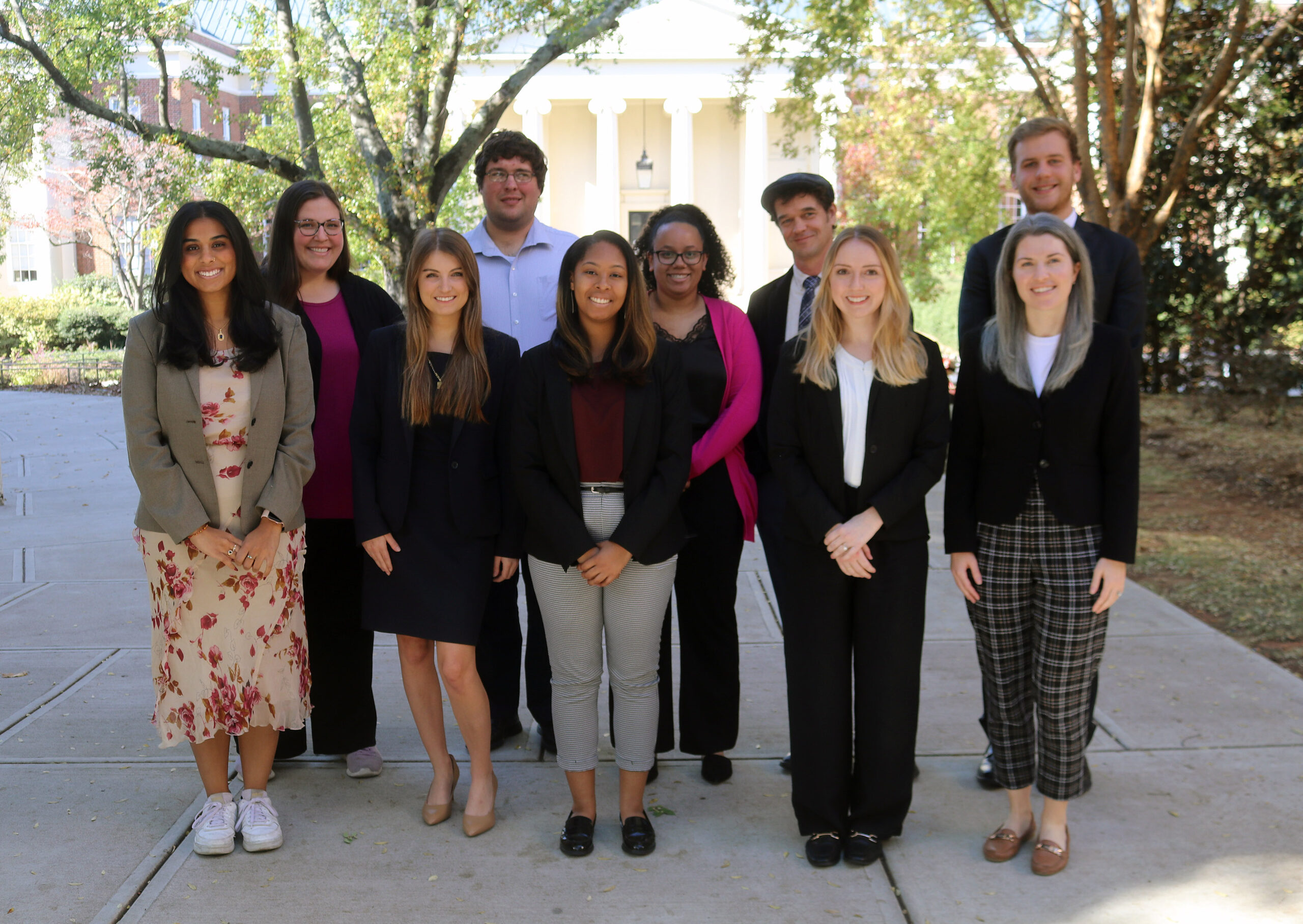 Meet Our
Current Law Students (2023-2024)
L-R: Mahi Patel, Kristen Shepherd (staff attorney), Anna Gowen, Stanley Maciejczyk, Ariyah Jones, Caitlyn Watson, Jason Cade (clinic director), Hope Skypek, Carolina Mares, Joe Colley.
2022-2023 Law Students
Jake Shatzer, Alexandra Smolyar, Jonah Chadwick Greigo, Andrew Dietz, Erika Love, Laura Fernanda Jimenez, Maha Toor, Anna Ratterman, Elena Rogers, Maddie Hoss
2021-2022 Law Students
Nia Waller, Briana Barnett, Savannah Grant, Navroz Tharani, Kaitlin Hocker, Zakary Pearsall, Victoria (Caraballo) Hiten, Ari Williams.
2020-2021 Law students
Paige Finley, Izaan Rizwan, Paige Medley, Luis Gomez, Eddy Atallah, Raneem Ashrawi, Thomas Evans, Frederick King.
2019-2020 Law Students
Ansley Whiten, Farishtay Yamin, Nneka Ifeyinwa Ewulonu, Zachary Perry, Stroud Baker, Andrea Aldana, Lisa Garcia, James Berrigan
2018-2019 Law Students
Amy Buice, Diana Di Marco, Karla Martinez, William Ortiz, Caitlin Felt, Chris Larson, Carter Thomas, Roger Grantham
2017-2018 Law Students
Onur Yildirim, Alina Venick, Megan Alpert, Slaton Wheeler, Gabriel Justus, Caroline Jozefczyk, Michael Aune, Sarah Mirza
2016-2017 Law Students
Pedro Dorado, Alessandro Francesco Raimondo, Ashley Rudolph, John Farmer, Laney Riley, Chris Johnson, Clayton Cory McClain, Mary Honeychurch
2015-2016 Law Students
Alessandra Cunha, Christina Cason, Andrew McClintock, Michael Sofo, Larkin Taylor-Parker, Arthur Cheek, Jacqueline Mink, Olga Gambini
2014-2015 Law Students
Carrie Moss, Catalina Alvarez, Ricardo Lopez, Marshall Sims, Kristina Sick, Beth Brewer, Allison Parish, Kristin Meagher